Bring Us Your Foam to Save Their Home
Dart Foam Recycling Program
Since 2018 your Zoo has been the only place in Saginaw that will take #6 Plastics! This is important because #6 Plastics that are foam are currently not accepted in the curbside recycling program for our area! Examples of foam recyclables include: foam cups, to-go containers, egg cartons, ice chests, meat trays (rinsed). Prior to this, the closest Dart foam recycling drop-off center was the Midland Recyclers Facility on Ashman Street in Midland, MI. This is still an option to drop off foam materials, but we are excited to give our community another location to recycle these materials. Please see the flyer below for more information on what foam is recyclable. Please remember, no packing peanuts.
Bring your #6 recyclables to the front gate and drop them off to the right. If you have questions, you can call us at (989) 759-1408.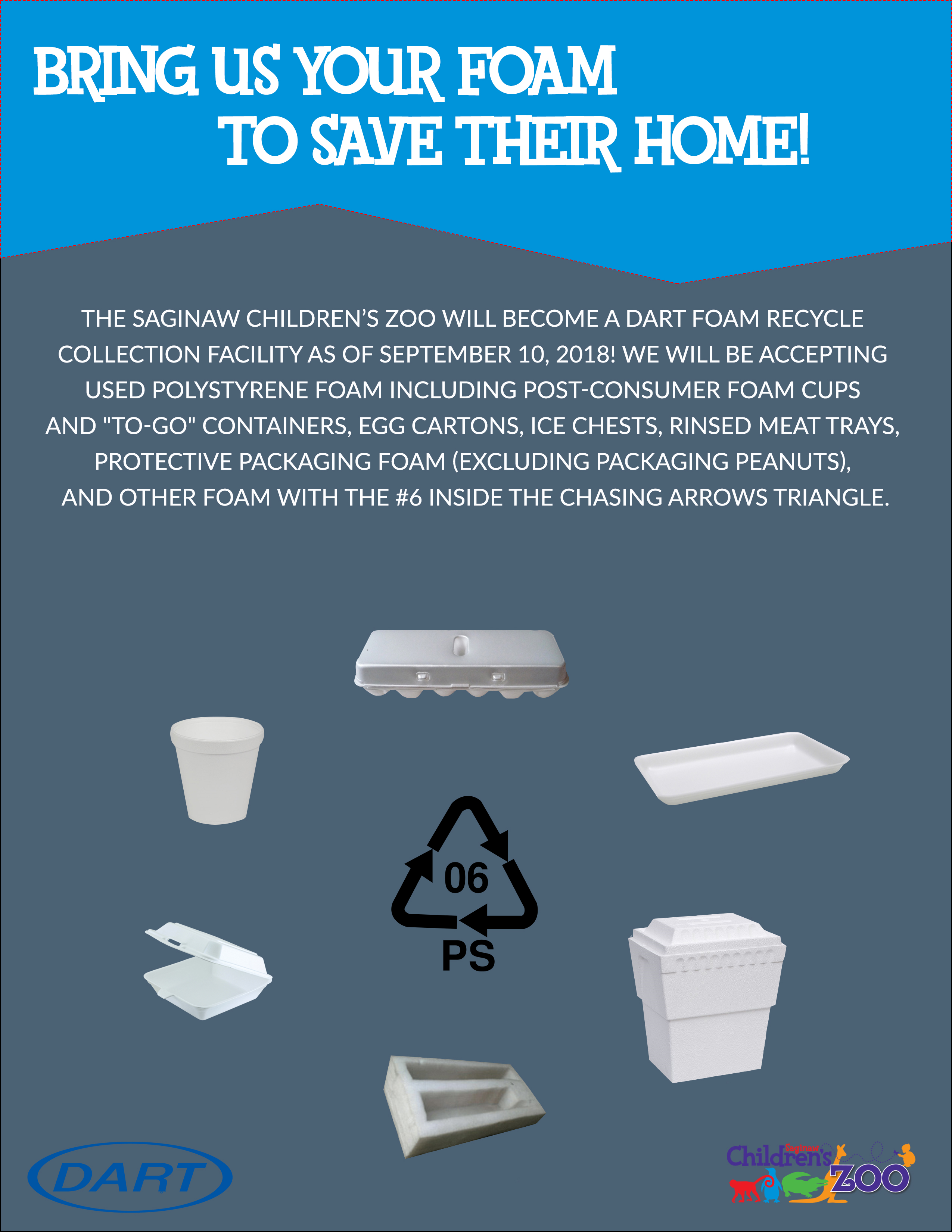 You can make a big impact on local wildlife by making small changes. You can buy items made with recycled materials, use reusable water bottles and shopping bags, and support your local AZA-accredited zoo or aquarium. All of these can have positive impacts on animals and the environment!
Recycling is an easy way to help animals and the environment from your own home. The Environmental Protection Agency (EPA) defines recycling as, "the process of collecting and processing materials that would otherwise be thrown away as trash and turning them into new products."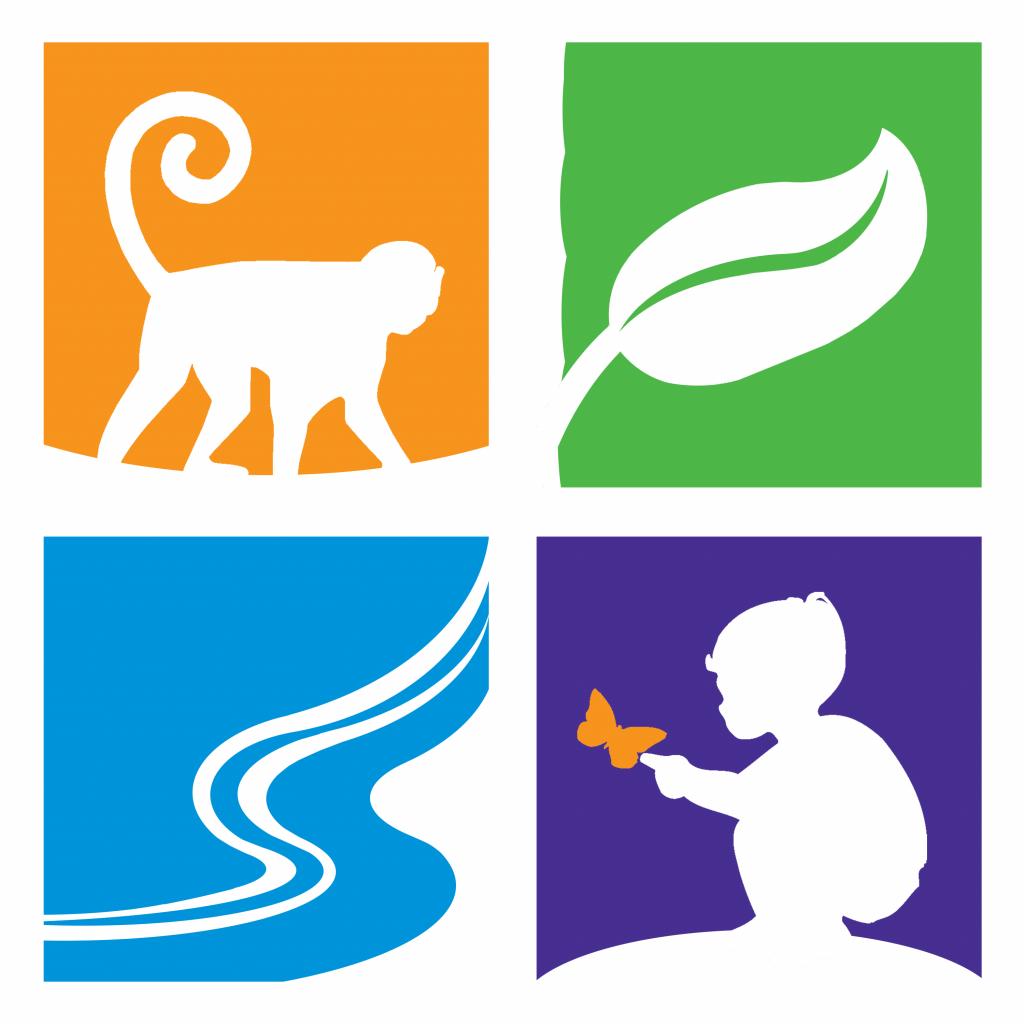 Recycling Benefits
Recycling is great not only for the environment, but for people too! Here are some benefits a local recycling program brings!
Reduces the amount of waste sent to landfills
Conserves natural resources such as timber, water and minerals
Increases economic security
Prevents pollution by reducing the need to collect raw materials
Saves energy
Helps create jobs in the recycling and manufacturing industries
Recycling Basics
A lot of communities participate in curbside recycling programs. Those that do not have these programs usually will have drop-off locations for recyclable materials. Deposit or refund programs are also in place in some areas.
Common recyclable materials include:
Paper
Batteries
Plastic
Tires
Aluminum
Oil
Not every type of these materials is recyclable in every area. Shiny, laminated papers are not able to be recycled in many places, as well as foam, candy wrappers, and many more. Being an informed recycler can help make your impact that much larger!
What do the symbols mean on the bottom of plastic bottles and containers? These symbols were created by plastic manufacturers to help people identify the kind of plastic used to make the container, which can help you determine if the container can be accepted by your local recycling program. Here's a link to the Mid Michigan Waste Authority's web page for more information about what is and isn't recyclable in our area!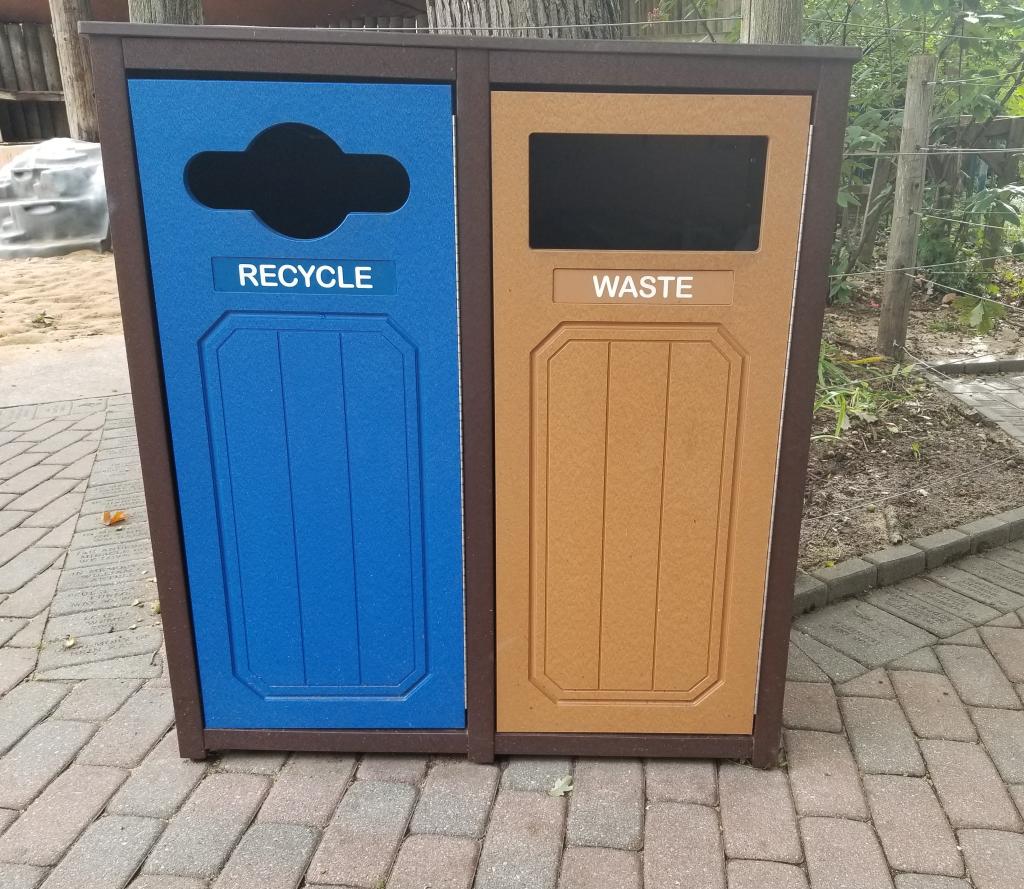 This season, the Zoo implemented new recycling/waste bins to make recycling even easier during your visit.