Our Zoo is dedicated to creating extraordinary experiences for all. We have lots of fun events at the Zoo in order to help make your visit unique and engaging. Here's a look at some upcoming events happening at the Zoo for the month of July!
July 6th, 1:00PM-2:00PM – Lunch and Learn
Our Zoo Conservationist, Robin, will give a mid-year update on how conservation projects are shaping up for 2018! Local conservation projects include Adopt-a-Highway roadside clean ups, Michigan frog and toad population surveys, sand hill crane surveys, and more! Stop on by for lunch and find out how you can get involved in these great local conservation projects!
July 6th, 5:30PM-8:30PM – 126th Army Band Concert at the Zoo
Join us for this FREE event, visit your animal friends that stay out at night, and watch the 126th Army Band in action for this patriotic concert!
July 14th, 10:00AM-5:00PM – First Responder's Day
As a thank you for all of their bravery and hard work, the Saginaw Children's Zoo is celebrating First Responder's Day by offering free admission to all first responders.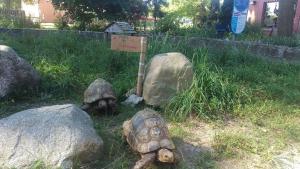 A. Leopard Tortoises Burt and Phil participate in thanking our hometown heroes!
July 15th at 10:00AM to July 21st at 5:00PM – National Zookeeper Week
Stop by the Zoo and tell your friendly, neighborhood zookeeper, "thank you," for all their hard work! The American Association of Zoo Keepers (AAZK) helps keepers around the country celebrate their appreciation week with fun activities and themes. The theme this year is: Keeping it Together: Teamwork, Collaboration, and Support. The focus of this National Zookeeper Week is celebrating teamwork and how inter-connected our Zoo family is. Come on out to the Zoo and celebrate with the keepers! You can also follow all the fun on social media with the hashtag #NZKW2018.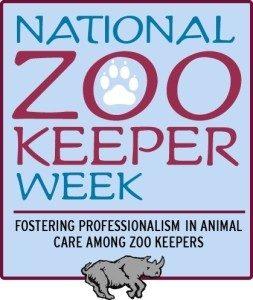 B. You can find out more about AAZK here: https://aazk.org/
July 15th, 7:00PM-8:30PM – Saginaw Eddy Children's Symphony Concert
Do you like listening to music? Stop by the Zoo on July 15th at 6:30pm for the Saginaw Eddy Children's Symphony Concert FREE admission into the Zoo to watch the band play at 7:00pm. The Zoo will be open at 6:30pm to explore the animals who live outdoors, and take a train and carousel ride. Ride tickets can be purchased for $1. Beverages and snacks will be available for purchase!
July 24th, 1:30PM-2:30PM – Theodore Roethke Party at the Zoo
Did you know that poet Theodore Roethke was born in Saginaw? Based on a Theodore Roethke poem, this event in the amphitheater is hosted by the Friends of Theodore Roethke. The event features an open mic for youths to read children's poetry, games, hats, and refreshments. Stop on by and check out the party!
July 28th, 10:00AM-3:00PM – Birds, Bugs, Butterflies, and Blooms
Flock on in to the Saginaw Children's Zoo for a special garden day with festive presentations and activities featuring some feathered and buggy friends! You can also vote for your favorite Adopt-a-Garden too!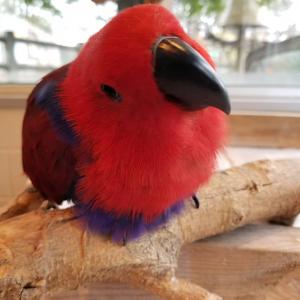 C. Come celebrate Birds, Bugs, Butterflies, and Blooms with Zelda, the Eclectus Parrot!
July 29th, 9:00AM-12:00PM – 1K9 Dog Walk
Grab your leashes and walking shoes! Join us at the Zoo for a 1K9 dog walk fundraiser benefiting the Saginaw Valley Police Canine Association. This event will brings local shelters with adoptable animals, vendors with treats for your furry friends, and face painting and activities for the kids!
We can't wait to see you this July for all of our events at the Zoo!